How
India's largest digital payments

company created an effortless Customer Experience with TransMon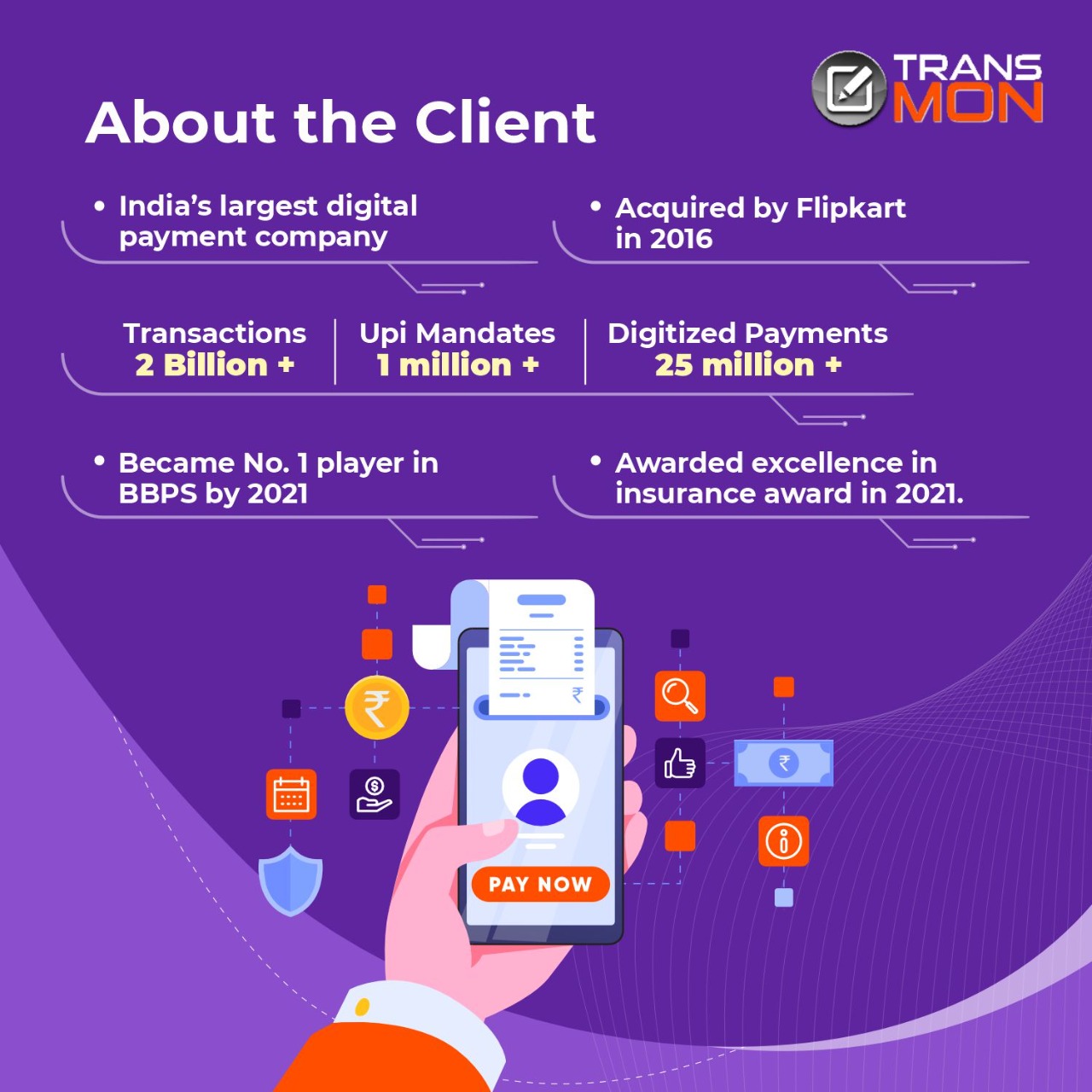 About the Client
Our customer is an Indian digital payments and financial technology company headquartered in Bengaluru, Karnataka, India. It was acquired by Flipkart in 2016, & its app went live in the same year. Come 2021 and it is number 1 player on BBPS.
With 2 billion+ transactions, 1 million+ UPI mandates they have helped small merchants with 25 million digitized payments & were awarded excellence in insurance award in 2021.
As they embarked on this growth journey, it became clear that the company had outgrown its internal Manual QA processes and would need a more flexible, automated system moving forward. This is where TransMon came in.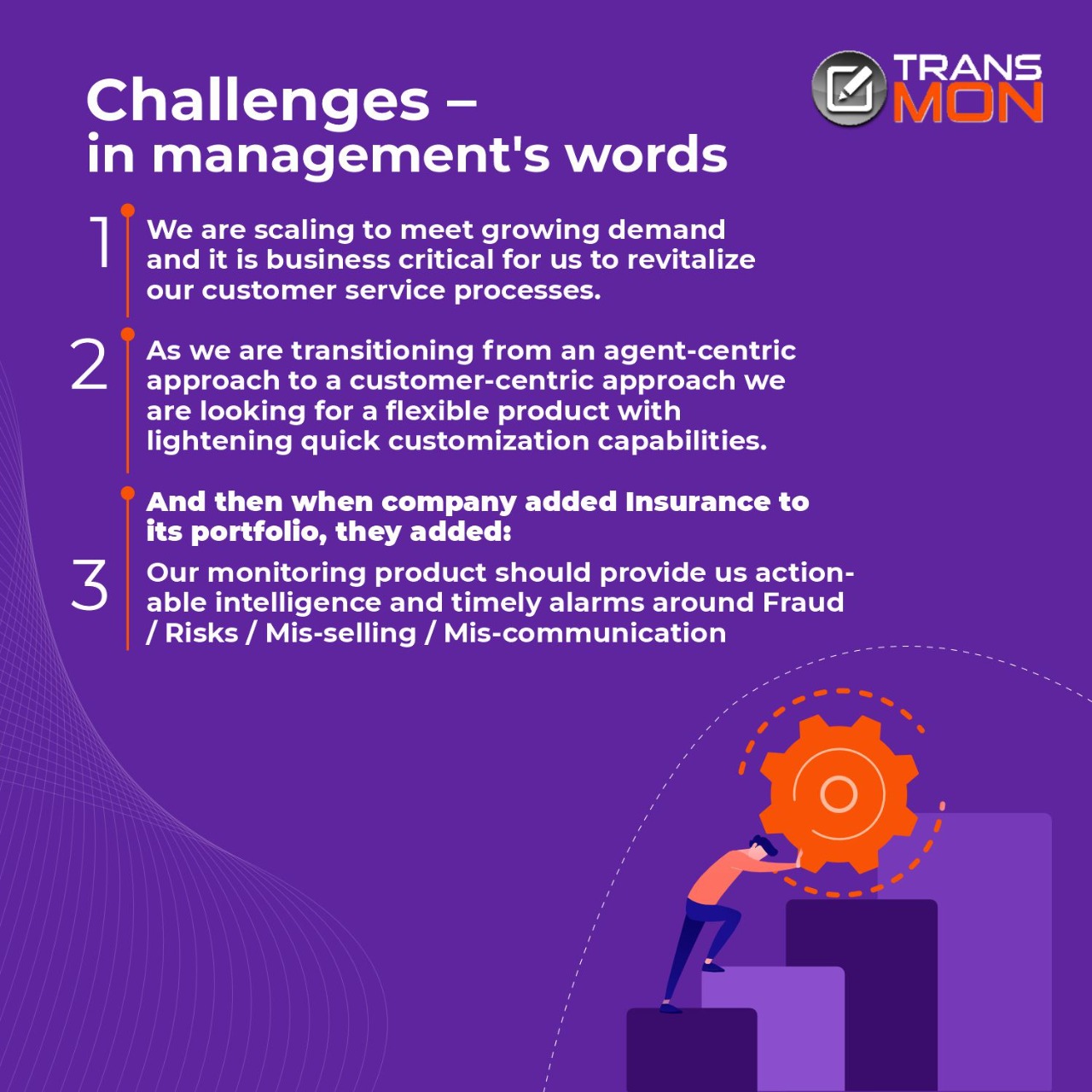 Management's Mandate
We are scaling to meet growing demand and it is business critical for us to revitalize our customer service processes.
As we are transitioning from an agent-centric approach to a customer-centric approach we are looking for a flexible product with lightening quick customization capabilities.
And then when company added Insurance to its portfolio, they added:
Our monitoring product should provide us actional-able intelligence and timely alarms around Fraud / Risks / Mis-selling / Mis-communication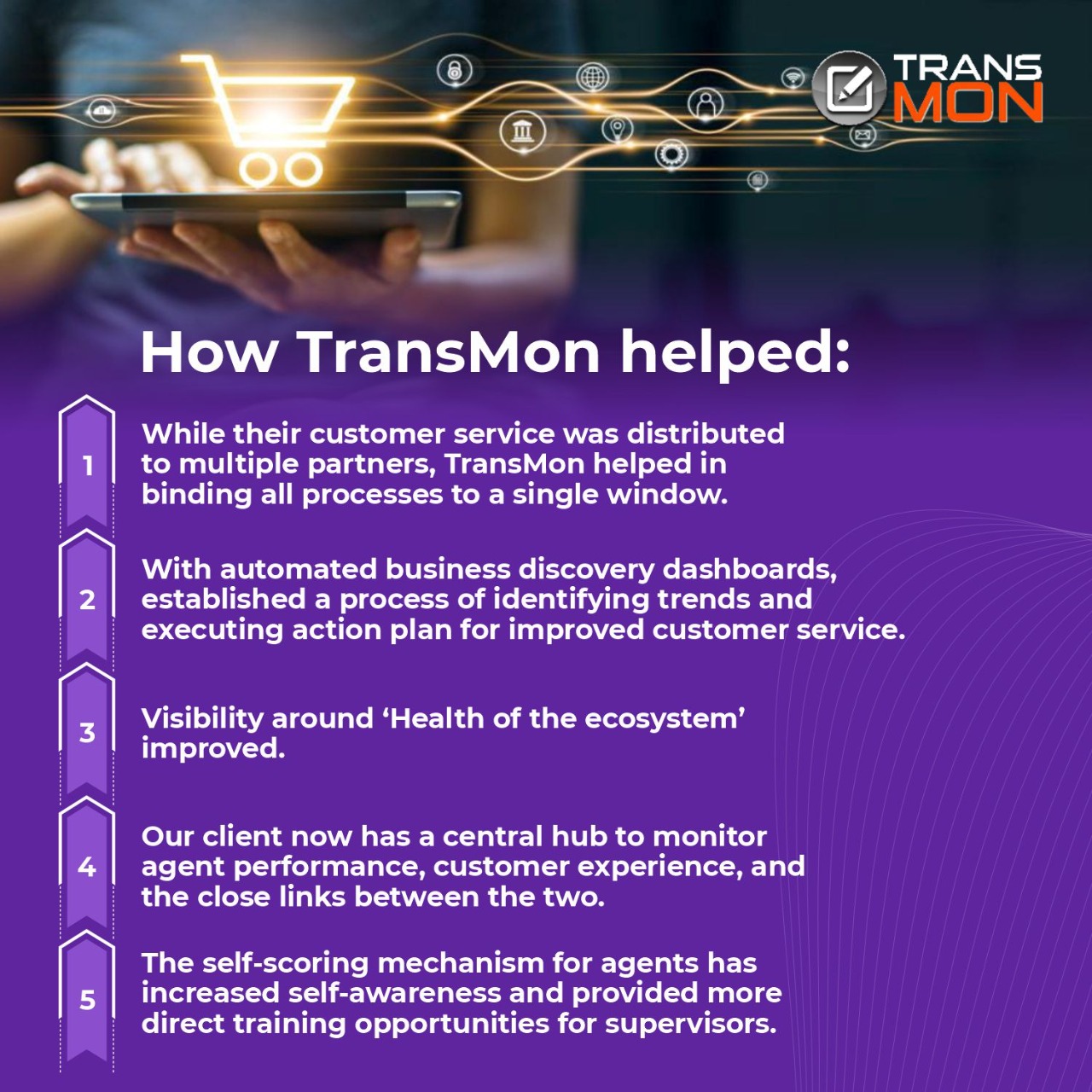 TransMon Implementation Story
Taking inspiration from Flipkart's effortless deployment experience, where TransMon was already implemented, India's largest digital payments company started implementing TransMon across voice, non-voice, email, chat channels. Over the next 2 years (after starting in 2019) they used TransMon's flexible and easily customizable structure to change its auditing approach from agent-centric to a customer-centric.
They Implemented TransMon (call quality management software) to manage all call-center processes, with a particular focus on agent evaluation and engagement. TransMon helped them bring back control & visibility around what was happening at all partner locations. While their customer service was distributed to multiple partners, TransMon helped in binding all processes to a single window.
With automated business discovery dashboards, established a process of identifying trends and executing action plan for improved customer service.
Visibility around 'Health of the ecosystem' improved
With a single QA solution for every aspect of contact center operations, our client now has a central hub to monitor agent performance, customer experience, and the close links between the two.
The self-scoring mechanism for agents has increased self-awareness and provided more direct training opportunities for supervisors. This, in turn, has improved Net Promoter Score—a priority metric for the customer.
Result
All above steps resulted in improvement of Customer Query Resolution scores by 8% within 120 days of deployment. Not just that Customer query resolution scores improved but when mapped against Customer Satisfaction scores, a strong positive co-relation was found b/w the two metrics.