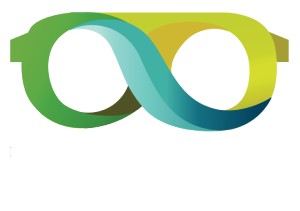 Case Study
By using TransMon to foster regular transaction reviews, special focus on query resolution, 100% voice feedback in their support team, Lenskart has seen improvement in Query Resolution scores from 84% to 90%.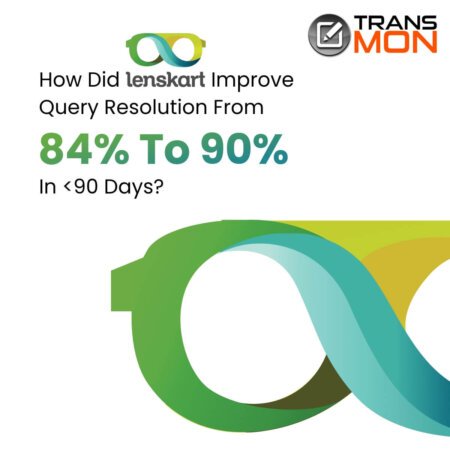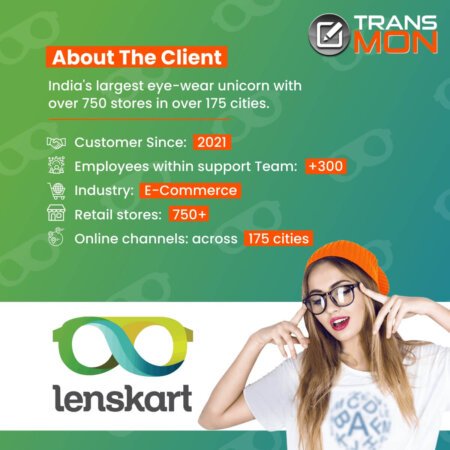 About The Client
Lenskart had entered India's 'unicorn' club about 2 years back, has more than 750 retail stores and online channels across 175 cities in India. It has an active presence in Singapore, West Asia, and the USA.
Objectives
Lenskart plans to hire over 2,000 people across functions by 2022. It is a popular brand, used by more than a million consumers– not just for the awesome product range that they offer – but also for brand's commitment towards 'Customer Obsession'.
From front desk customer service executive to top leadership, which includes co-founder Piyush Bansal & Amit Chaudhary, everyone across the board is committed to providing outstanding customer experiences with every customer interaction.
During pandemic, when their Customer Service experts started working from home or remote locations, Lenskart continued to keep its focus on offering excellent customer care to the customers. They were quick to respond to urgent need of Automating & Digitizing their Quality auditing processes, which will enable Customer Service team in delivering regular, effective, efficient & actionable agent feedback. They know that continuous coaching of frontline staff is key to maintain and improve their query resolution rate.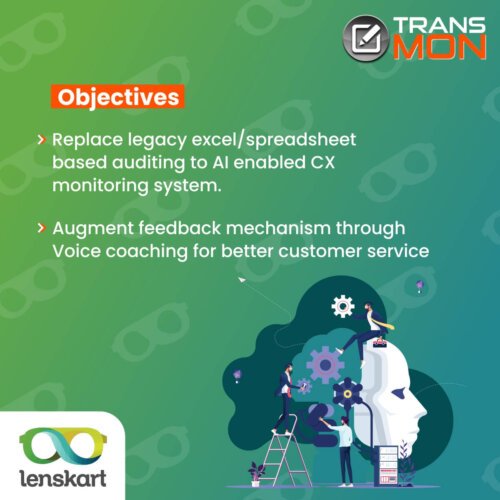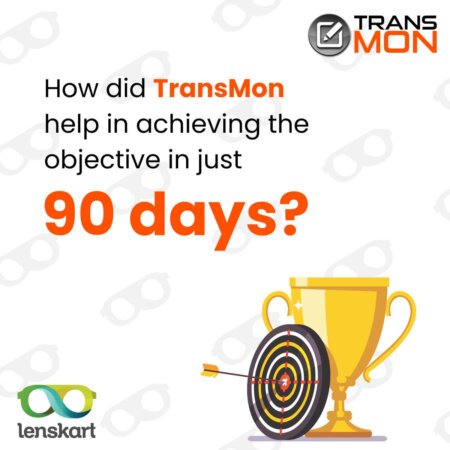 90 days post-TransMon deployment, they are happy to see that improved QA procedures, regular voice feedback to CSR, timely alarms to management have resulted in increased query resolution scores.
How Did Transmon help?
CQ forms digitized and uploaded on TransMon facilitating automation.
Revised stratified sampling for better campaign management and amplifying the overall efficiency of the auditing process.
Voice coaching and feedback empowered the workforce through regular, effective, efficient & actionable agent feedback.
Building on the pillars of overall quality monitoring framework automation, OpsGuru provided better control and visibility of the overall health of the process to the management through its actionable intelligence & BI reports.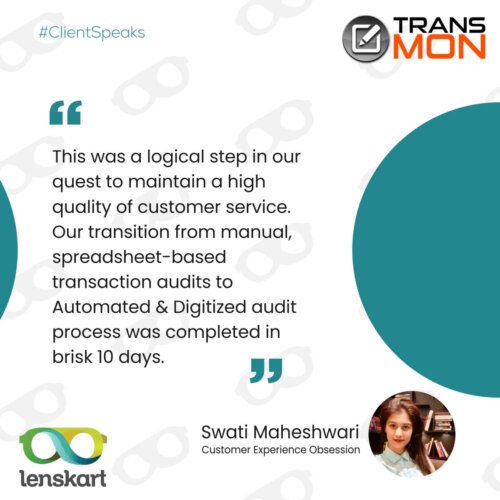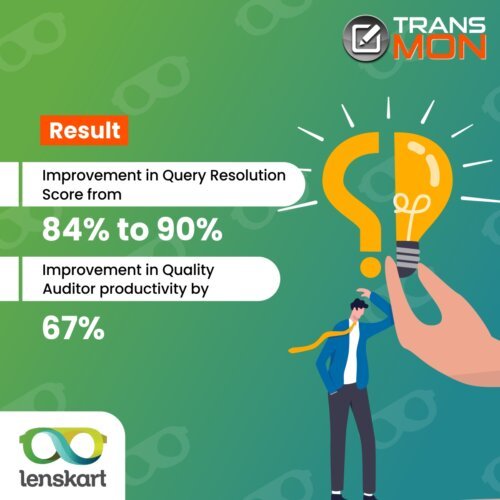 For these reasons, Lenskart leadership started to look for alternatives to using spreadsheets to support quality auditing program. Lenskart found TransMon promising to do everything they'd been looking for. Some key operational benefits that they have accrued in a short span of 90 days are:-
No more waiting for the gigantic spreadsheet to load
No manual copy-pasting ever again.
100% Feedback delivered digitally which is actionable: the transaction monitoring team voice records feedback for each transaction which reaches every agent in near-real time. Lenskart has complete visibility around effectiveness and efficiency of feedback process.
Reliability of the tool: with Transmon there is no fear of misplaced data or typing errors.
Actionable dashboards: business discovery is easy. No manual intervention required
Automatic notification: TransMon notifies agents about the feedback they've received, so nobody has to do extra work to deliver transaction monitoring results to the team through zoom or over emails.
If you're looking for a way to boost the quality of your customer service without sacrificing your team's productivity, give TransMon ago. Make agent feedback a seamless part of your support operations and help your agents excel at their job.